AIMPOINT COMP M

Recently, The United States Army went looking for a reflex site for both the M-16A2 rifle and the M-4A1 carbine. After some stringent testing the contract was awarded to Aimpoint for their Comp M and it was designated the M68 sight for close quarters combat. The M68 sight is a reflex (non-telescopic) sight. It uses a red aiming reference (collimated dot) and is designed for the "two eyes open" method of sighting. The "two eyes open" method allows for quick acquisition of the target with a high hit probability. Most everyone is familiar with how a red dot scope works, so I won't ramble about that any longer.

What I will ramble about will be the extraordinary features of the Aimpoint Comp M.

Foremost, the Comp M features 10 switch settings which gain in intensity, the first two being Infrared-Red. For the grunt in the field, this means he can use the reflex sight while wearing his night vision device. Aimpoint uses a double front lens that eliminates parallax that is seen so often in other red dot sights

Secondly ,the mounting units for the Comp M allow for rapid installation and removal from the weapon both on the M-16 and the M-4. The mount for the M-16 carrying handle allows iron sight usage.

The Army has finally accepted the usefulness of both eyes open sights. They will see a definite decrease in target acquisition and possibly in quick fire type accuracy.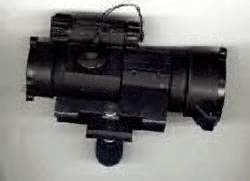 The only problem that is foreseen with the use of electronic scopes……BATTERIES. 1) are they going to be removed from the sight when the weapon is turned in to prevent the battery from dying? 2) if so what happens when the soldier forgets to grab one on the way out? 3) is the transition from red dot to iron sights going to be practiced? Face it the batteries will die when your in the field and need it most. None of these questions are Aimpoints problems and are not meant to detract from their product in anyway.

The Army has guaranteed the purchase of 80,000 units and has the option of purchasing 20,000 more. The Aimpoint M68 sight is available through the NSN listing and has a few different options such as dot size ( 3 , 7 or 10 MOA) and with or without the I.R. settings. More information can be found at www.aimpointusa.com.

As Aimpoint says" When conditions won`t permit second chances, when the life of shooter depends upon the shot, count on the Comp M series. The U.S. Army does!".

By: Ron England