Thompson/Center FIRE STORM

I recently contacted T/C looking to do a review on a muzzleloader for hunting season. Since I live in Pennsylvania, the folks at T/C recommended that I give the Fire Storm flint lock a try. I really knew nothing at all about muzzleloaders and wanted to write about a black powder rifle that would be fairly easy, for a beginner to learn with. I conveyed my concerns to them, and they again suggested the Fire Storm. The only real experience I had with a muzzleloader of any type was shooting a ball or two, when someone had it at the range and offered me a try. I never really was bite by the black powder bug. I would watch as a charge was poured, the patch and ball rammed down, and then the priming pan filled, the whole time thinking" this takes way too long". The shooters would then take aim, pull the trigger, have a puff of smoke from the priming charge drift across their face, then what seemed to be a half second delay and BANG, the ball was fired. I truly didn't see what the fuss was all about. Then I started shooting the Fire Storm!
One of other staff writers, Fletch Ruckman, and myself went out to our testing area with the Fire Storm, his large collection of black powder accruements, some powder, balls, sabots and pyrodex pellets. Fletch has a world of black powder experience and was really interested to see what the Fire Storm could do, especially in the area of ignition. After a little instruction on the proper loading of a flintlock, I loaded up the rifle with a modest 70 grain charge, rammed down a patched round ball and primed the pan. I took aim at the backstop and fired. It all seemed to move pretty fast to me, the priming powder ignited and then the rifle went off almost instantly. I looked over a Fletch and all he said was "Whoa!" I asked what he meant, and he responded with "that's the fastest ignition I've ever seen in an out of the box flint lock". We shot it a few more times with the same results, super fast ignition. Now it was time to try it with some Pyrodex pellets. We loaded up two fifty grain .50 caliber pellets and gave it a shot. Fletch seemed even more amazed at the ignition time of the Pyrodex pellets. Because of my lack of experience with what a flint lock should do, I started wondering what made the Fire Storm, so special.
The T/C Fire Storm was designed specifically for ultra reliable ignition with modern Pyrodex® Pellets. The patent pending Pyrodex® Pyramid directs the ignition fire 360° around the entire base of the Pyrodex® Pellet. As the pellets move forward, the flame is drawn up through the center of the pellets, creating a "fire storm" in the breech for reliable ignition.(see illustration below)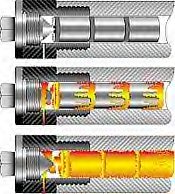 After getting used to the rifle, I went to a bench for some serious accuracy work with the rifle. I fired a few 3 shot strings at a 100yd. Sight in target placed out at fifty yards. My first group was just over 2 inches. I new the rifle should be capable of a better group, so I shot again. By the third group, I was ripping one big hole. I then went out to 100yds. The first group at this distance spread to about 3 1/2 inches, with my best coming in at 2 1/2 inches. I am pretty confident that with more practice, I'll be able to get down to a 1 inch group.

There are a few other features of this rifle that are worth mentioning. The Fire Storm is capable of taking a powder charge of up to 150 grains of FFG Black Powder or Pyrodex® equivalent (or 3 Pyrodex® 50 caliber, 50 grain Pellets). The flint lock model ( they also make a cap lock model ) features a 1 in 48" twist and will fire both conicals and ball. The Fire Storm has a removable breech plug for easy cleaning from either the breech end or the muzzle. The Fire Storm also features a massive recoil lug which will assure solid and consistent barrel lock up, a plus for accuracy time and time again. The all steel click adjustable fiber optic sights aid in precise sight alignment in low light conditions. The barrel of the Fire Storm also features the QLA Muzzle System.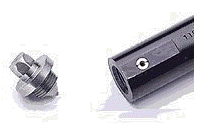 T/C's QLA Muzzle System (Quick, Load, Accurizor) is basically a built in "false muzzle". Many old time target shooters used to attach a false muzzle to their rifle barrel for loading purposes, to guarantee precise alignment of the projectile during the loading procedure. They would then remove the "false muzzle", prior to shooting. The "false muzzle" also protected the rifling from being damaged or worn during loading. T/C's QLA Muzzle is built right into the end of the barrel in all of their rifles permanently. It guarantees consistent alignment of the projectile because it is surrounded by steel for 360 degrees prior to being driven down the bore and engraved with the rifling. This consistent alignment greatly improves the accuracy potential of the rifle by eliminating one of the variables associated with good accuracy... projectile alignment. T/C's QLA® Muzzle System also makes loading your second shot in the field much easier. You merely drop the projectile in the barrel and go straight to your ramrod, using short strokes. It eliminates the hassle of trying to align the projectile with one hand, and drive it into the rifling with a short starter.

Specifications: (Flint Lock)
· Caliber: .50
· Ignition: Flint Lock
· Barrel Length: 26" with QLA® Muzzle System built in.
· Rifling Twist: 1 in 48" twist for use with Round Balls and Conicals.
· O/A Length: 41 3/4".
· Approx. Wt: 7 lb.
· Rifle Sights: Competition click adjustable steel rear sight and ramp
style front sight are fitted with Tru-GloTM Fiber Optics.
· Stock: Black Composite.
· Trigger: Single with large trigger guard bow.
· Extra Features: Aluminum ramrod is standard.
· Loading: The Fire StormTM can accept Magnum charges of up to
150 grains of FFG Black Powder or
Pyrodex® equivalent (or 3 Pyrodex® 50 caliber, 50 grain Pellets).


Specifications: (209 Cap Lock)
· Caliber: .50
· Ignition: 209 Shotgun Primer
· Barrel Length: 26" with QLA® Muzzle System built in.
· Rifling Twist: 1 in 28" twist for use with Conicals and Sabots.
· O/A Length: 41 3/4".
· Approx. Wt: 7 lb.
· Rifle Sights: Competition click adjustable steel rear sight and ramp
style front sight are fitted with Tru-GloTM Fiber Optics.
· Stock: Black Composite.
· Trigger: Single with large trigger guard bow.
· Extra Features: Aluminum ramrod is standard.
· Loading: The Fire StormTM can accept Magnum charges of up to
150 grains of FFG Black Powder or
Pyrodex® equivalent (or 3 Pyrodex® 50 caliber, 50 grain Pellets).

You can get more information on the Fire Storm or any of Thompson/Center's other fine products at www.tcarms.com

By: Ron England